Edinburgh Airport
We have been delivering fabricated steel to Edinburgh Airport for the new expansion of Scotland's busiest airport which is currently underway. A new enlarged terminal building and aircraft parking area is being added to the current site.
<center><iframe src="https://www.facebook.com/plugins/video.php?href=https%3A%2F%2Fwww.facebook.com%2FOfficialHeartofMidlothianFC%2Fvideos%2F10155845917239762%2F&show_text=0&width=400" width="455" height="455" style="border:none;overflow:hidden" scrolling="no" frameborder="0" allowTransparency="true" allowFullScreen="true"></iframe></center>
Motherwell – Heart of Midlothian FC
The football team Hearts of Midlothian are having a new stadium erected and one of our main customers were supplying the fabricated steel. Our highly experienced driver Lloyd demonstrated his skills when reversing this 25m long load into site.
Oxford
Throughout 2016 we have been delivering into one of our major customers' sites at Oxford. The customer were building a new Shopping Centre in the heart of the City and we delivered in all of the Structural Steel. The deliveries all had to meet strict times and be offloaded and positioned in sequence. This project was another success for both Intake Transport and our customer.
Gravesend Railway Station
Throughout 2013 & 2014 a major rejuvenation project took place at Gravesend Railway station. One of our biggest customer's was suppling the fabricated steel, bridges, platforms and glass roofing, whilst also project managing and erecting on site. We continuously liaised with the customer to meet their requirements and accommodate plans altering.

We delivered Steel into this site throughout 2013 and 2014 with 19 loads going in over the Christmas period, starting on Boxing Day.
<iframe width="490" height="366" src="https://www.youtube-nocookie.com/embed/w0O7-2KLdg4?rel=0&showinfo=0" frameborder="0" allowfullscreen></iframe>
Port Talbot
Throughout 2014, 2015 & 2016 a full new Railway Station has been under construction in Port Talbot. This scheme has been funded by the European Regional Development Fund, Welsh Government, Department for Transport, Network Rail and Arriva Trains Wales in a bid to improve the rail services provided throughout Wales.

The existing station has been demolished and replaced with a brand new one and an enclosed footbridge is a key feature of the station with lift access to all platforms. The footbridge houses the ticket office, waiting areas, and customer facilities.

Intake Transport delivered in Structural Steel for the framework of the station, the bridge sections and the platforms.

Our highly experienced Heavy Haulage drivers and escort team had to use their skills in order to negotiate the loads to delivery site safely and on time.
Oban
One of our fabrication customers were extending a school in Oban, we were contracted to deliver all of the material for the project and delivered 32 loads of Structural Steel throughout November & December of all lengths.

In order to work around the existing school times' strict delivery windows had to be adhered to, so as not to disrupt their day. In working closely with our customer both in the traffic office and on site we ensured all times were met, resulting in customer satisfaction.
Port of Tyne
We delivered four 5 meter wide loads to the Port of Tyne where one of our main fabricator customers were erecting a hopper for ships to discharge biomass into. Our driver and escort driver's skill and experience were needed for the safe planning, transit and offloading of these structures.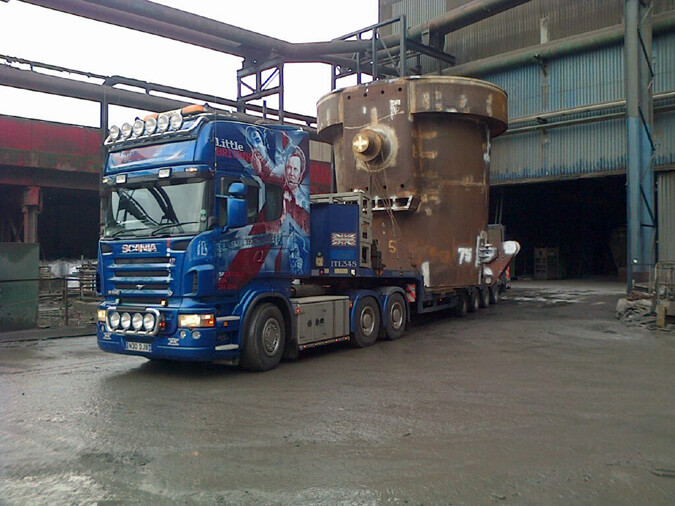 Tata Scunthorpe
Moving a 60T pouring ladle for Tata Scunthorpe our driver, Steve Colley, needed all his experience to negotiate the tight delivery point; but all went to plan.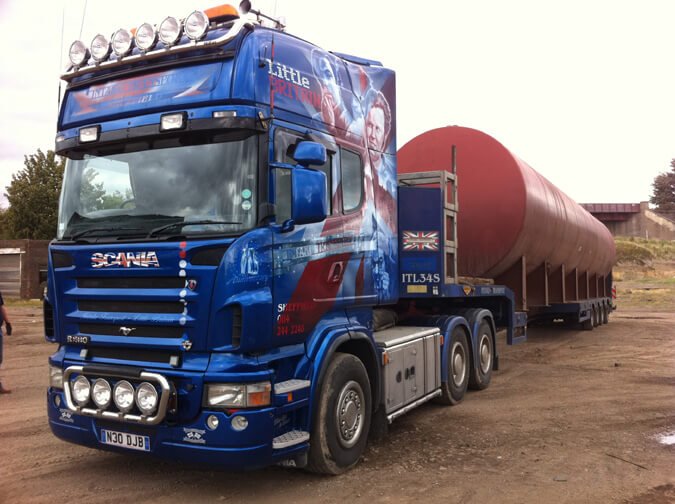 Local Storage Tank Supplier
Working with a local storage tank supplier we have been busy delivering their large fuel tanks around the country from Cornwall to Scotland. Some deliveries tested the driving skills of our best STGO drivers.